Publisher: Viking, Copyright 1998, First Edition.
Sherlock Holmes and the Ice Palace Murders by Larry Millett
is the second in a series of Sherlock Holmes pastiches set in Minnesota, or America in general. The first novel was Sherlock Holmes and the Red Demon. It is intriguing to find Holmes and Watson in America. And the setting of the city of St. Paul provides new ground for the characters and the reader to explore.
The Story:
Jonathan Upton, a scion of one of St. Paul's weathiest familes, vanishes on the eve of his wedding. The family is friends with James T. Hill, railroad tycoon. And it is Hill that asks Holmes and Watson to investigate the disapperance.
It is winter in St. Paul and a giant Winter Ice Palace is being erected. The frigid ice palace become a central location as Holmes gathers his clues. Among the suspects for the disappearance is an Italian scupltor who is making ice sculptures, the members of the Muskrat Club who activites are dark and a shadowy figure that seems to be behind the attempts of murder on Holmes and Watson's lives.
This book also introduces the character of Shadwell Rafferty, an Irish-American detective of sorts who seems to be just about as astute as Holmes is when it comes to investigating. Rafferty and Holmes have a slight rivalry in collecting clues, but soon find they must help save each other's life as death threatens them in the cold waters of the mighty Mississippi River...
The Writing:
I had to read this book twice to actually appreciate the crafting of this novel. It is well written, but the author's "voice" is contrary to my preferred style and I had trouble following the accumulation of plots twists and clues. But upon the second reading, the book's strengths were more self-evident.
Sherlock Holmes is as brilliant as we would want him to be. And the villian in the story is a worthy opponent. The plot does makes sense and it is fun seeing Holmes unravel it.
I must admit I did not like the character of Shadwell Rafferty. I do not see why Holmes needs to share the stage when it comes to his particular gifts. But other readers seem to have found much to admire in this new character and you might also.
The Rating: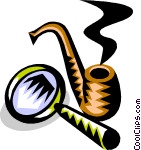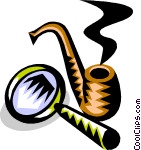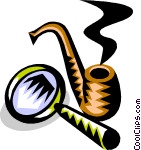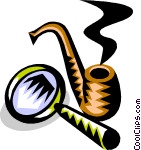 ... I am giving this novel, a rating of 4 "Pipes." The book's setting and story make it a worthy addition to your Sherlock Holmes library. Despite my struggles with the book, I enjoyed reading it.
To purchase this book on Amazon, visit:
Sherlock Holmes and the Ice Palace Murders: From the American Chronicles of John H. Watson, M.D.
---
News About Sherlock Holmes
Google News
The Red Circle - Sherlock Holmes (Jeremy Brett) Part 1 of 5
More Sherlock Holmes related videos
can be found at Sherlock Holmes Videos
Powered by WebRing.
Sherlock Holmes and the Ice Palace Murders by Larry Millett | Copyright Sherlockholmespastiches.com | Privacy Policy