Publisher: St. Martin's Minotaur, Copyright 2007, First Edition.
Murder on the Celtic by Conrad Allen
is the eighth novel in a series of mysteries involving passsenger liner ships running during the early 1900's. The mysteries are solved by a husband and wife - ship detective's team. What makes this novel of interest to Sherlock Holmes fans and readers, is that Sir Arthur Conan Doyle and his second wife are passengers on the ship called the Celtic. The famous writer and Lady Jean Doyle are returning to England after a speaking tour of America.
The ship detectives are George Porter Dillman and Genevieve Masefield. They do not acknowledge their marriage while they are working, as it is easier to mingle amongst the ship's passengers, if they appear to be unattached. Since this is the 8th in a series about the ship detectives, the main focus of the book is on this duo.
The Story:
After the passenger liner,
the Celtic,
leaves New York with its ship full of First, Second and Third class customers, it is learned that an escaped murderer maybe on board. The two detectives, Dillman and Masefield, are asked to be on the look out for this escapee. To complicate matters, there is a series of jewel robberies. And then, to make things even worse, Sir Arthur Conon Doyle's personal copy of "A Study in Scarlet" is also stolen.
As Dillman and Masefield work to resolve these problems, we meet several different ship passengers including several third class members who were rejected at Ellis Island as potential immigrants to America and are thus forced to return to Europe. One of the poor souls is eventually murdered...
While all of these carrying-ons are of interest, what, as a Sherlock Holmes fan, was most enjoyable was the glimpse into what life must have been like for Conan Doyle after he became famous. In his time, he was probably as well-known as any celebrity is today. And that meant he had fans, some of whom, even on this ship are fanatics...
While Doyle didn't have to face the Paparazzi of today, he did have his problems maintaining his privacy. There are also two seances that take place on the ship which the Doyles attend. It seems that every book that has the older Doyle as a character, must make some reference to his involvement of Spiritualism.
The Writing:
The writing was well-crafted, if a little simple or routine. One problem I had was that I had not read any of the previous novels in this series. The author, Conrad Allen, probably felt that I would already know about the husband and wife detective teams as well as life onboard a 1900's passenger liner. But I did not. I felt a litte lost without some background details in the first half of the book. Still, I eventually caught onto the rhythm of the book's voice and I did find the resolution of the various crimes satisfactory.
While many readers will enjoy the pages about the Doyles as famous people, as I did, they maybe disappointed, as I was, that Doyle did not do any detective work in the book.
The Rating: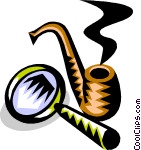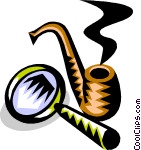 ... I am giving this novel, a rating of 2 "Pipes." If you are someone who is really into the sub-genre of Sherlock Holmes pastiches where Arthur Conan Doyle is a main character (and not Holmes) you will want to add this book to your collection. If money is tight and you prefer the type of Sherlock Holmes pastiche where Holmes and Watson are the adventurers, you may want to spend you money on those types of books first...
To purchase this book on Amazon, visit:
Murder on the Celtic: A Mystery (A Shipboard Mystery Featuring George Porter Dillman & Genevieve Masefield)
---
News About Murder on Cruise Ships
This RSS feed URL is deprecated, please update. New URLs can be found in the footers at https://news.google.com/news
Google News
2009 (Dec) Sherlock Holmes Movie Trailer (Robert Downey, Jr.)
More Sherlock Holmes related videos
can be found at Sherlock Holmes Videos
Powered by WebRing.
Murder on the Celtic by Conrad Allen | Copyright Sherlockholmespastiches.com | Privacy Policy