Publisher: Book Surge, Copyright 2005, Unknown Trade Paperback Edition.
Sherlock Holmes on the Wild Frontier
is a Sherlock Holmes pastiche that explores one of those intriguing questions - Did Sherlock Holmes have any adventures in America? This novel has Holmes and Watson traveling through the wilds of the American Frontier. It is always interesting to see how Holmes will react in a different setting than that of London. Here Holmes is camping out in the Colorado mountains of the American Old West.
The Story:
Sir Eustace Plymouth is dying and want to reconcile with his estranged son before he leaves this mortal coil. He hires Holmes and Watson to find Cathcart Plymouth who has gone to America to prove himself worthy of the family name.
Although the trail is several months old, Holmes and Watson slowly begin to catch up with the errant son. Along the way they face Indians and gunslingers, dance hall girls and miners. It also appears that someone is trailing them who does not want Cathcart to be found alive.
At one point Holmes and Watson spend time with an Old Prospector who tempts Holmes to take up life on the rugged frontier. Eventually, they meet up with a woman whom Cathcart plans to marry. This "girlfriend" insists on travelling with them. Holmes begrudgingly finds himself respecting a woman who can take care of herself or is he falling in love?
The Writing:
Magda Jozsa writes an adventured filled story. The pace is even and the reader is easily carried along. While the characters of this Western/Sherlock Holmes story are familiar, the author does not fall into cliches as she tells the story. Both Holmes and Watson are well drawn. Although Holmes does not make a lot of deductions in this mystery, he displays that sterling ability to survive in unusual circumstances.
While Ms. Jozsa has not has not yet completely mastered the craft of writing, her ability is strong enough for any Holmes fan to enjoy this story...
The Rating: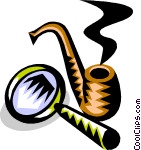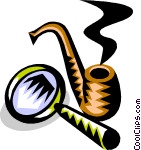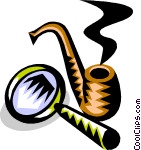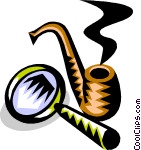 ... This novel has a rating of 4 "Pipes." It is a fun, well paced novel that shows off Holmes and Watson under interesting situations. The author is working on a sequel to this novel, tentatively entitled, "Return to the Wild Frontier. I look forward to it.
To Purchase on Amazon, visit:
Sherlock Holmes on the Wild Frontier
---
News About the Wild Frontier
This RSS feed URL is deprecated, please update. New URLs can be found in the footers at https://news.google.com/news
Google News
A Tribute to Sherlock Holmes
More Sherlock Holmes related videos
can be found at Sherlock Holmes Videos
Powered by WebRing.
Copyright Sherlockholmespastiches.com | Privacy Policy