Publisher: Yearling Books/Random House, Copyright 1999, First Edition.
The Adventures of Shirley Holmes
features two cases: "The Case of the Burning Building" and "The Case of the Ruby Ring." The detective investing these cases is the great-grandniece of Sherlock Holmes, Shirley Holmes. This is a novelization of the first two episodes of a Canadian television show entitled "The Adventures of Shirley Holmes." The original episodes aired from 1996 to 2000.
The Story:
A teenage girl named Shirley who, with her 'side kick' Bo, (think Sherlock Holmes and Watson) are always in the middle of a new crime that needs solving, and who better to do it than the legendary Sherlock Holmes grand-niece Shirley?
In "The Case of the Burning Building," we are introduced to Shirley Holmes and learn of her detective abilities. At Shirley Holmes's school, a new kid arrived. His name is Boris Sawchuk or "Bo." Since then, several fires have occurred and Bo is accused of setting those fires. Shirley knows it is not him! While she is befriending Bo, who has a troubled past, she investigates to find the real culprit.
In "The Case of the Ruby Ring," it the time for school elections. During an assembly where candidate speeches are being given and a rare ruby is on display, one of the student candidiates is almost electrocuted. During the confusion that follows, the ruby disappears. As Shirley Holmes tracks down the missing ruby, she discovers she has an arch nemisis named Molly Hardy...
The Writing:
Julie Angell's novelization of the two television episodes is well written. While geared towards an audience of Ages 9-12, I found the plot and characterizations interesting enough to satisfy this adult reader.
I am certainly intrigued enough by Shirley Holmes to want to read further stories in the series. Several more Shirley Holmes Adventure books were printed. And I would also like to view the television show, to see how well it holds up as enjoyable Sherlock Holmes fare.
The Rating: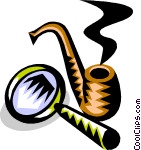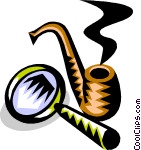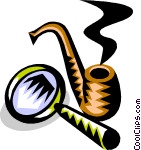 ... I am giving this novel, based on television series a rating of 3 "Pipes." I found the two stories had enough substance to keep me interested. But this is a work for juviniles and not every adult Sherlock Holmes may want to get it. Still I believe Shirley Holmes and her adventures reflect well on the literary world of Sherlock Holmes.
To purchase this book on Amazon, visit:
The Case of the Burning Building and The Case of the Ruby Ring: The Adventures Of Shirley Holmes
---
News About Shirley Holmes
This RSS feed URL is deprecated, please update. New URLs can be found in the footers at https://news.google.com/news
Google News
Russian Cartoon: Sherlock Holmes
More Sherlock Holmes related videos
can be found at Sherlock Holmes Videos
Powered by WebRing.
Copyright Sherlockholmespastiches.com | Privacy Policy